About Women2Women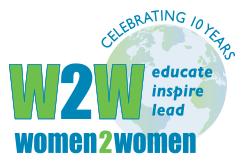 Give a girl a chance, and she will do the rest. This is a common theme in discussions about poverty, political development and human rights. Research shows that families, communities and nations prosper when girls have the opportunity to participate fully in every aspect of society.
Women2Women (W2W) builds a network of promising young women (ages 15-19) from around the globe, engages them in the issues that define their lives and provides them with the tools, relationships and opportunities required to lead.
Over a 10-day period, up to 100 promising, emerging female leaders will participate in an educational training program designed to provide them with enhanced leadership skills, while challenging them to develop and implement a collaborative civic engagement action plan in their communities.
W2W has been specifically developed to provide young women leaders with the skills needed to succeed in our global community. To that end, W2W has set five program goals:
Build bridges of mutual understanding, respect and trust among young people from diverse ethnic and religious communities throughout the world;
Strengthen leadership skills related to media literacy and training, public speaking, negotiation, social media, critical thinking, goal-setting, time management and problem-solving, with the ultimate goal of elevating the status of women and girls worldwide;
Engage young women in the issues that define their lives such as the development of healthy self-esteem, access to quality education and healthcare, freedom from violence, awareness of their undeniable human rights and the opportunity to participate fully in every aspect of society;
Demonstrate the importance of civic engagement and volunteerism through service-learning opportunities and guide participants in developing a service project action plan to be implemented in their communities; and
Establish a powerful network for W2W delegates grounded in productive personal relationships —both peers and mentors—towards achieving positive social change